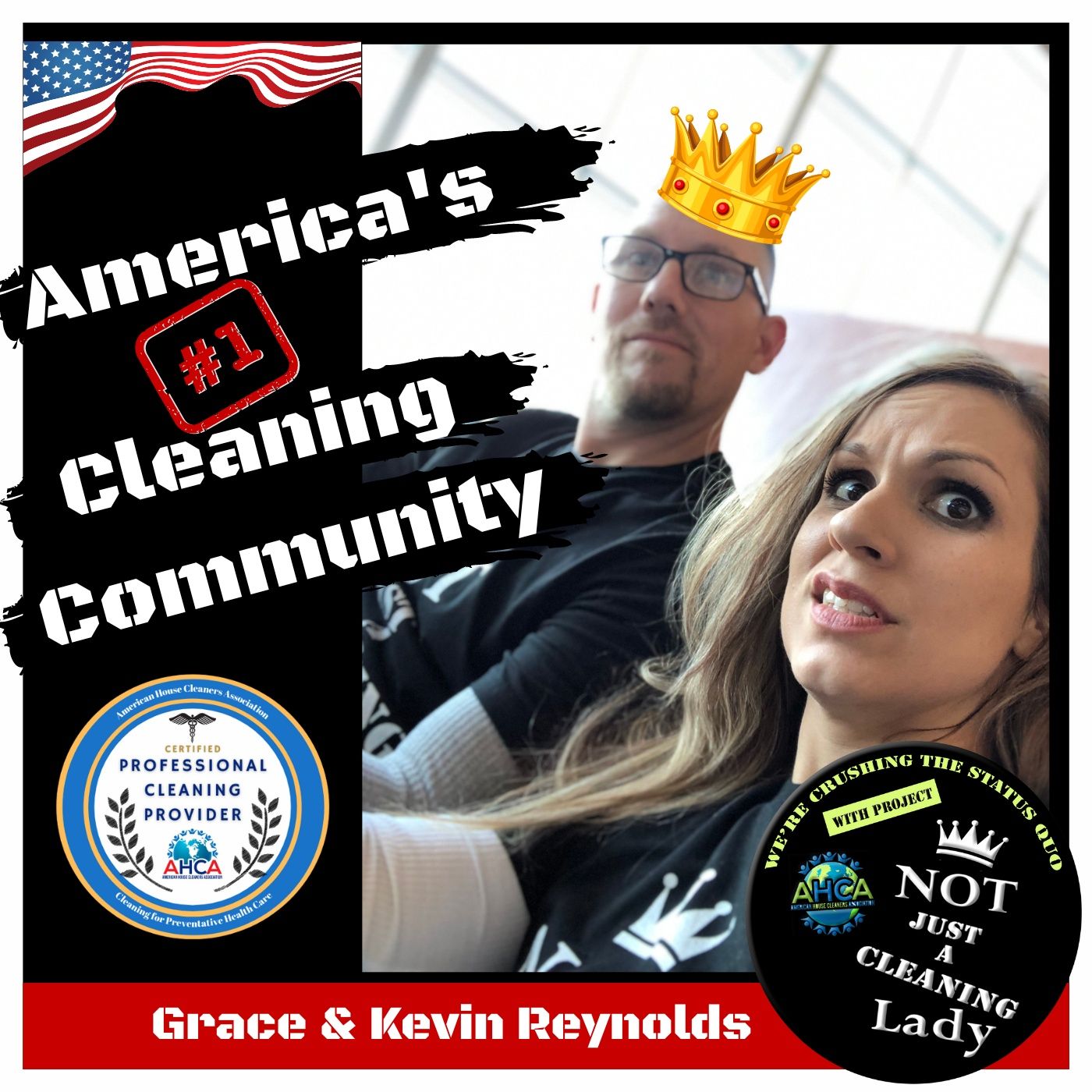 Not Just A Cleaning Lady
by
Kevin & Grace Reynolds
October 21, 2022 3:28 am
For the first time in history there's a fire burning bright for professional cleaners and the cleaning industry.
The American House Cleaners Association, under the leadership of Grace & Kevin Reynolds, is committed to destroying the stigmas on cleaning & cleaners that have tarnished and soiled our society's outlook on this amazing profession since the beginning of time.
The #NotJustACleaningLady podcast show is sponsored by the American House Cleaners Association and is streamed #LIVE into our private group on Facebook of over 30,000 cleaning industry professionals across the country.
Our mission is to raise the awareness, respect, and recognition for professional cleaning. Together, we're climbing to become the best-of-the-best professional cleaning companies on the planet – and quickly accomplishing our mission.
Don't go at it alone anymore! Join the American House Cleaners Association and our national mission: http://www.theAHCA.org
Join us on Facebook: http://www.fb.com/groups/handmaidcleaning ¿Quiere hacer crecer un negocio de limpieza legítimo y exitoso?
¡Los líderes de habla hispana de AHCA, Lucía Cruz, Jorge Arroyo y Lucy Castillo se unen a nosotros hoy con un mensaje importante para todos los limpiadores y propietarios de empresas de limpieza de habla hispana!
¡Ahora es el momento de conectar y unir a todos los limpiadores de habla hispana con la Asociación Estadounidense de Limpiadores de Casas y, por primera vez en el mundo, crecer juntos para convertirnos en las empresas de limpieza profesional más exitosas que jamás hayan existido!
Deseamos su máximo crecimiento, éxito, libertad y felicidad, ¡y estamos aquí para usted en cada paso del camino!
¿Conoces a un limpiador de habla hispana? ¡Comparta este enlace con ellos para que puedan escuchar esta importante transmisión y tener acceso gratuito a educación, orientación, tutoría y todas las herramientas necesarias para convertirse en propietarios exitosos de un negocio de limpieza!
http://www.theAHCA.org
Recent Episodes
¿Quiere hacer crecer un negocio de limpieza legítimo y exitoso_

Empower Your Cleaning Business Through This Shifting World

House Cleaner Needs Help!

Why Is It So Hard To Grow My Cleaning Company?

When Was The Last Time You Seriously Contemplated Who You Want To Become?

Growing A Successful Cleaning Company is a Spiritual Battle

How To Grow My Cleaning Company In A Recession

Episode 5: Get the Pricing Game

Episode 4: Part 2 House Cleaner To Management

Episode 2: Who's the Cleaning Lady?