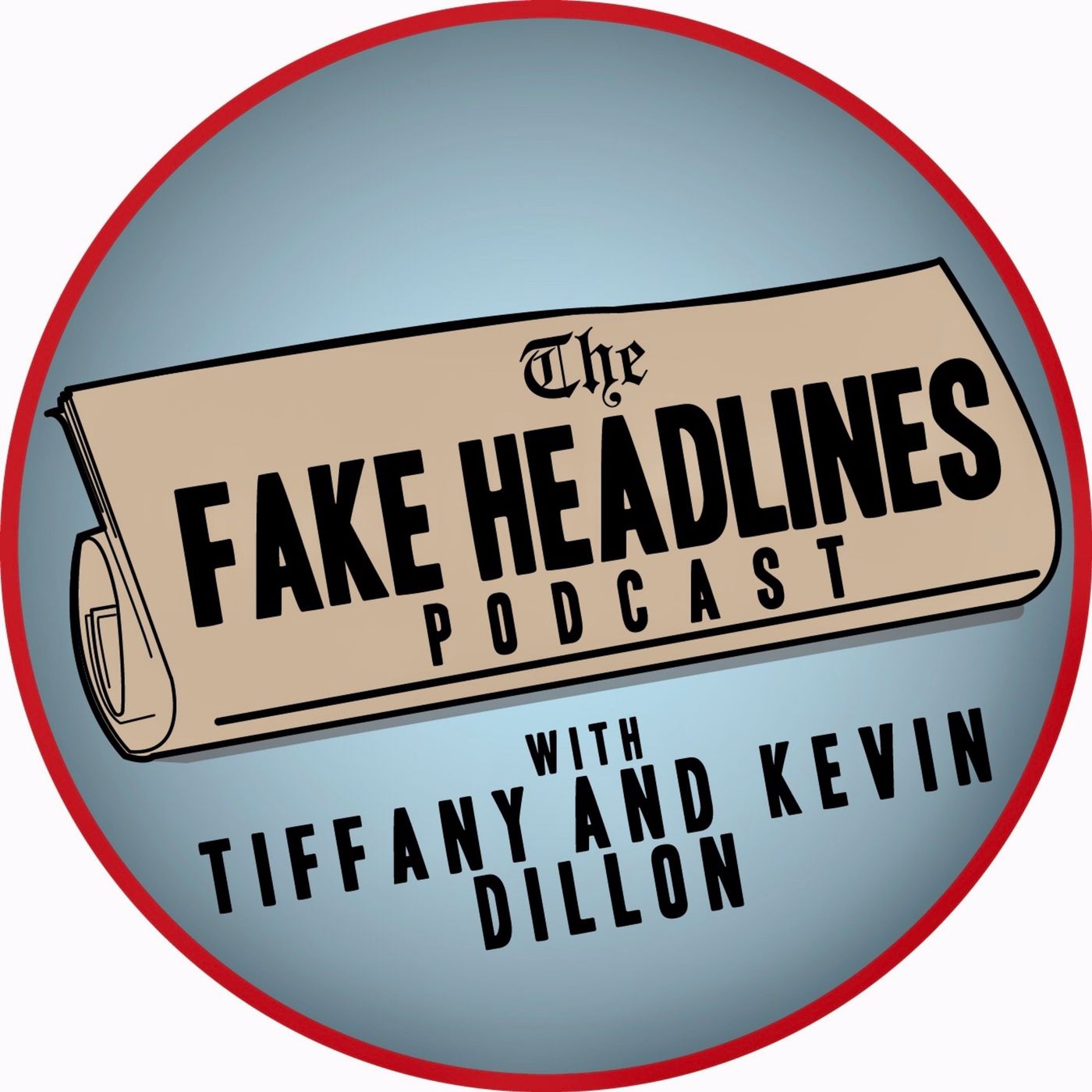 Fake Headlines Podcast
by
Kevin & Tiffany Dillon
July 7, 2020 2:27 pm
A weekly comedy news podcast featuring a husband & wife comedy duo. Each week we go over some real life news stories while attempting to fake each other out with a couple of made up ones. This week's comedy news podcast headlines include illegal fireworks, gourmet meal kits, demolition derby's, faces in the sky, an audience of plants, and a sexual catastrophe!
Fake Headlines is a weekly comedy news podcast featuring a husband & wife riffing on absurd news with some made up headlines thrown into the mix! We don't know what headlines ahead of time that the other person has prepared, and we see where the conversation takes us.
THIS WEEK'S HEADLINES:
– Barcelona Opera Reopens With An Audience Of Plants
– French Chef Combats Restaurant Closure by Creating Gourmet Food Kit
– Near Sighted Grandpappy Calls Authorities Upon Seeing Crowd of Faces in the Sky
– Drive Through Haunted House Leads To Drive Thru Demolition Derby
– Several Arrested When Illegal Fireworks Show Knocks Out Neighborhood Internet
– Pair hired for man's sexual fantasy turn up in bedroom at wrong address with machetes
# LISTEN ON STITCHER PREMIUM!
Get one free month of Stitcher Premium by going to stitcher.com/premium and entering promo code **FAKEHEADLINES**
Listen to some of your favorite shows ad-free with Stitcher premium like Conan O'Brien Needs a Friend, My Favorite Murder, Having Funlessness with Jen Kirkman, Natch Beaut, Office Ladies, Prompt and Circumstance, Glen Thinks Stuff, Science Rules with Bill Nye and so many more!
# Audible Trial!
This week's episode is sponsored by Audible! Get one free download along with a FREE 30 Day Trial by going to [audibletrial.com/fakeheadpod]()
# Plugs!
SOLEHO SHOES
(https://www.solehoshoes.com)
Find individuality in fashion! Choose from carefully selected boots, shoes, sneakers and limited apparel to unapologetically shine with bold confidence.
# REVOLVER RECORDS
(www.revolverrecordsinc.com)
Our favorite record store is right here in Buffalo: Revolver Records! The largest collection of new and quality vintage vinyl in Western New York!
# MARKOLA
Treat yourself with some [Markola!](www.drinkmarkola.com)
Order your bottle of Markola Coffee Syrup to make coffee sodas, coffee-milk, cocktails, ice-cream and more.
# KITTY BOX PRESS
Looking for some new fun tees to look cool in your socially distant selfies? Get your custom made order from [Kitty Box Press!](www.kittyboxpress.com)
PS- They designed our logo!
# Social Media!
Follow us on [Twitter!](twitter.com/fakeheadpod)
Follow us on [Instagram!](instagram.com/fakeheadlinespodcast)
Follow us on [Facebook!](Facebook.com/fakeheadlinespodcast)
**Email Us!**
[FakeHeadlinesPodcast@gmail.com](mailto:FakeHeadlinesPodcast@gmail.com)
Visit our Website! [www.fakeheadlinespodcast.com](www.fakeheadlinespodcast.com)
Recent Episodes
Dum Dums

Intergalactic Slide Whistles

A Pile of Pillows and a Pair of Dark Rimmed Glasses

Disgusting Mystery/Spectator of Love

Goblins

The Bird Who Forgot to Fly

Okay, Covid: Fake Headlines Podcast

Great Laughter Escape!

Comfortable Hideousness

Parachute Panty