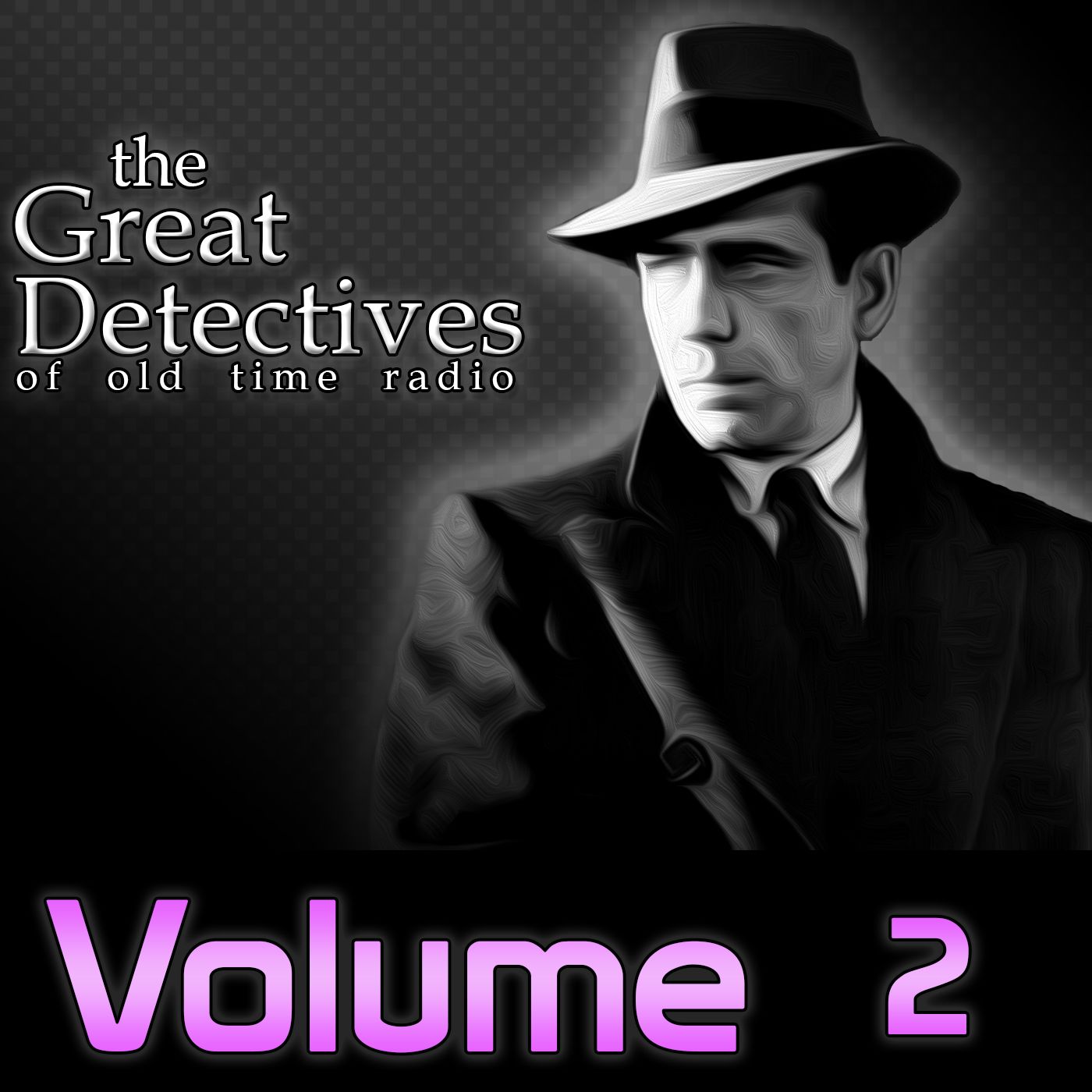 The Great Detectives of Old Time Radio Volume 2
by
Adam Graham
October 30, 2023 11:00 am
Adam Graham continues his journey through Old Time Radio Detective programs from their first available adventure to their final bow in Seasons 4-6 which were released between 2012 and 2015, featuring nearly 1,000 Old Time Radio episodes. You can listen to the current podcast feed of The Great Detectives of Old Time Radiohttps://www.spreaker.com/show/otr-detective-the-great-detectives-of-olhere.
Picking up where we left off at the end ofVolume 1, Volume 2 begins by continuing the Adventures of Frank Race, The Fat Man, Let George Do It, Sherlock Holmes (with John Stanley and later John Gielgud) and Yours Truly Johnny Dollar with John Lund.
In this volume, we'll hear these Golden Age Radio Classics:
– Bob Bailey taking over as Yours Truly Johnny Dollar in exciting serials and then in thrilling half hour episodes.
– The legal mystery series from the mind of Erle Stanley Gardener A Life in Your Hands
– Cases of Mr. Ace Starring George Raft
– The International Mystery series Mr. I.A. Moto
– The adventures of crime-solving lawyer John J. Malone
– The greatest of all manhunters Nick Carter, Master Detective
– The police procedural classic The Line-Up
– An antiques dealer and amateur detectives opens The Casebook of Gregory Hood
– 1930s Crimefightint Action with Police Headquarters
– The Adventures of Philip Marlowe starring both Van Heflin and Gerald Mohr
– 1930s Crime-solving Action with Police Headquarters
– Manhunt featured a police criminologist who is smarter than the detectives and doesn't mind showing it every chance he gets!
– Half-doctor, Half Detective, all lovable responsible adult. Dr, Tim, Detective is assisted in solving crimes by a couple of kids who he instructs in important lessons in science and medicine.
– Tales of Scotland Yard Inspector Peter Black and his Pursuit of Justice
– Pat Novak for Hire is back for a second run through his hard-boiled adventures to contrast with the other Jack Webb show that ran concurrently for a weeks.
– We begin our journey through the landmark radio program Dragnet starring Webb as the rules for police dramas are rewritten.
– Vincent Price stars as the Saint, the modern Robin Hood of Crime
– Easy Money tells of a magician-turned-detective who exposes con games.
– Dane Clark stars as a New York Private Eye in Crime and Peter Chambers
– Ellery Queen challenges you to match wits with him in amazing puzzle mysteries.
– The first radio incarnation of Michael Shayne starring Wally Maher as a Bay Area Private Detective
– A Chicago-based Criminologist uses psychology to solve crimes in The Crime Files of Flammond
Also listen to even more obscure series such as Homocide O'Kane, Here Comes McBride, Miss Pinkerton Incorporated, A Johnny Fletcher Mystery, Police Blotter, Call the Police, The Big Guy, The Man from Homicide, and Hearthstone of the Death Squad.
Also listen for specials starring Orson Welles, Adolph Menjous, Gregory Peck, Dick Powell, Robert Montgomery, and William Bendix as we feature adaptations of Philip Marlowe Movies, Raymond Chandler short stories, and Edgar Allen Poe's Detective Auguste Dupin.
This show is part of the Spreaker Prime Network, if you are interested in advertising on this podcast, contact us at https://www.spreaker.com/show/5901852/advertisement
Recent Episodes
The Line Up: The Be-Bop Bandits Bungling Bang-Bang (EP1082)

Yours Truly Johnny Dollar: The Shepherd Matter, Part Five and Dr. Tim Detective: The Mystery of the Chest of Dynamite (EP1081)

Nick Carter: Records of Death (EP1080)

Yours Truly Johnny Dollar: The Shepherd Matter, Parts Three and Four (EP1079)

Amazing Mr. Malone: Seek and Ye Shall Find (EP1078)

Yours Truly Johnny Dollar: The Shepherd Matter, Parts One and Two (EP1077)

The Line Up: The Guided Gang Case (EP1076)

Yours Truly Johnny Dollar: The Laird Douglas-Douglas of Heatherscote Matter, PT 5 and Dr. Tim Detective: The Dog Who Did and Didn't EP1075

Nick Carter: Nine Hours to Live (EP1074)

Yours Truly Johnny Dollar: The Laird Douglas-Douglas of Heatherscote Matter, Part Three and Four (EP1073)