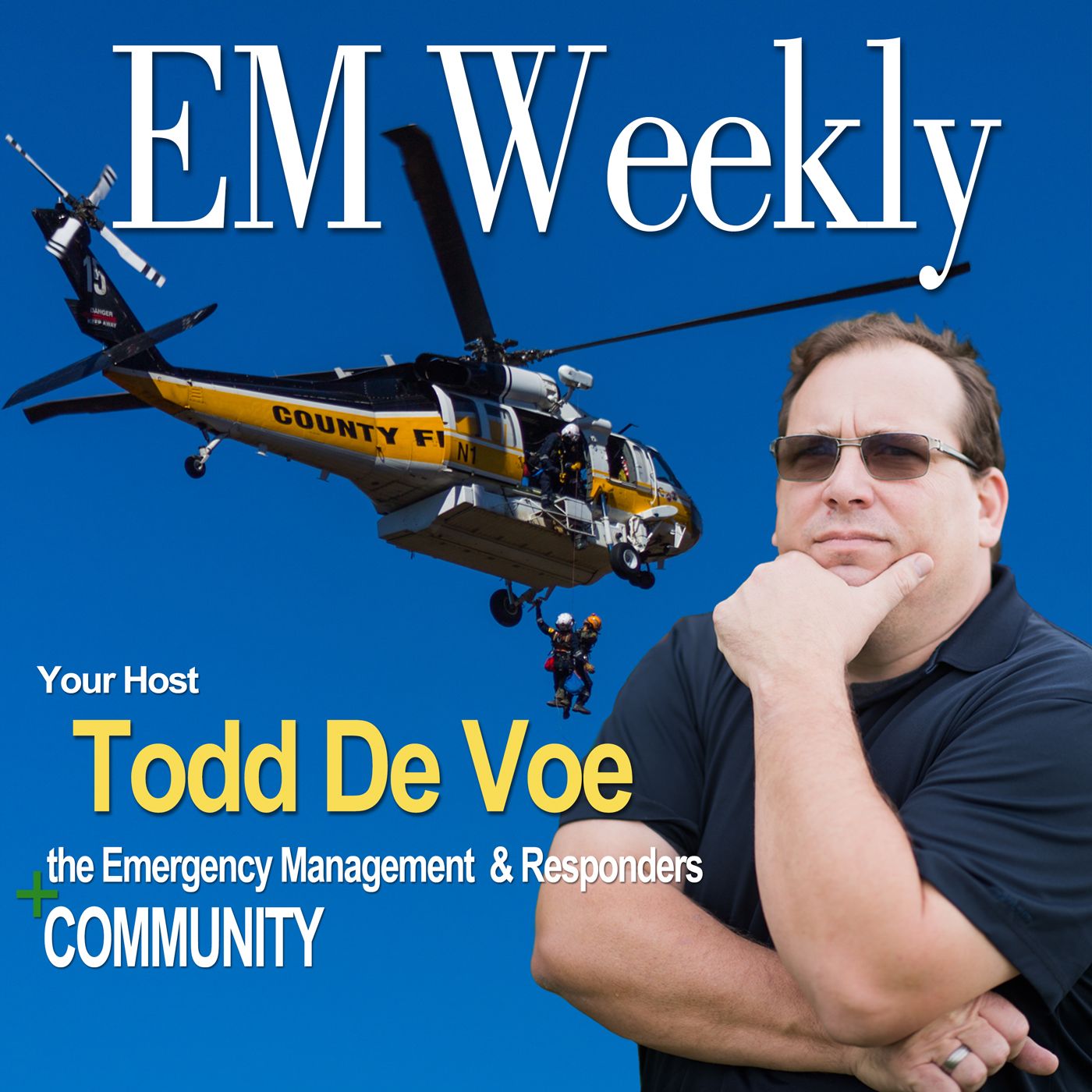 EM Weekly's Podcast
by
Sitch Radio
October 2, 2020 2:00 am
EM Weekly is a weekly Emergency Management podcast hosted by Todd De Voe that brings news, interviews, discusses trends and issues that impact Emergency Management, first responders, military, education, public safety, communications, disaster volunteer organizations, public health, humanitarian groups, NGOs, professionals, students, and researchers.
Produced by Sitch Radio
Brian Colburn This week we are talking to the FEMA Region III Administrator. As Regional Administrator, she is responsible for coordinating FEMA emergency preparedness, mitigation, and disaster response and recovery activities in the District of Columbia and the states of Delaware, Maryland, Pennsylvania, Virginia and West Virginia.
Links
MaryAnn Tierney
Web – https://www.fema.gov/about/organization/region-3
Twitter – https://twitter.com/FEMAregion3
Facebook -https://www.facebook.com/FEMA
LinkedIn -https://www.linkedin.com/company/femaregion3/
YouTube – https://www.youtube.com/user/FEMA
EM Weekly
Website – https://sitchradio.com/our-shows/em-weekly/
Twitter – https://twitter.com/EM_Weekly
Facebook – https://www.facebook.com/emweekly
LinkedIn -https://www.linkedin.com/company/17905473/admin/
YouTube – https://www.youtube.com/channel/UCE-wAle11GsM_0r1XggqCqw
Sister Shows
EM Student
Web – https://sitchradio.com/our-shows/em-student/
Twitter – https://twitter.com/EM_Weekly
Facebook – https://www.facebook.com/emweekly
LinkedIn -https://www.linkedin.com/company/17905473/admin/
YouTube – https://www.youtube.com/channel/UCE-wAle11GsM_0r1XggqCqw
The Business Continuity Show
Twitter – https://www.instagram.com/titanhst/
Facebook – https://www.facebook.com/Business-Continuity-Today-107622617647974
LinkedIn – https://www.linkedin.com/in/toddtdevoe/
YouTube – https://www.youtube.com/channel/UCm6x_5nxAyrlSbLC_xBimEQ
Sponsors
Titan HST https://www.titanhst.com/
Vanquest https://www.vanquest.com/ Coupon Code "EMWEEKLY"
Outer Limit Supply https://outerlimitsupply.com/ Coupon Code "EMWEEKLY"
If you would like to become a sponsor or advertiser
Call Sitch Radio (714) 643-2500 X 1
Recent Episodes
Region III Regional Administrator MaryAnn Tierney

30 days 30 Ways

The indian Tribal Emergency Management Association (iTEMA)

Emergency Planning for the Shared Workspace

Rethinking Readiness with Jeff Schlegelmilch

The American Civil Defense Association: Who Are They and Why Should We Care

IAEM Vice President Candidate Brian Scroggins

EM Shorts BAH Continuity

The Next Generation of Emergency Managers (AEMO)

The Medical Response to COVID-19