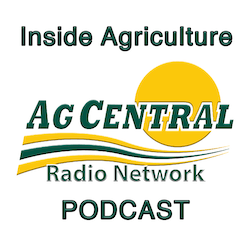 Inside Agriculture Podcasts
by
Ag Central Radio Network
April 24, 2021 12:36 am
Join the Ag Central Radio Network for Inside Agriculture Monday through Friday for breaking Agriculture stories along with Agriculture lifestyle stories! Inside Agriculture Segment 1
Recent Episodes
04-23-21 - Senate Ag Committee advances Growing Climate Solutions Act. Ag Secretary meets with nine other ag ministers to talk about climate.

04-23-21 - Rick Schmidt of Oliver County Extension with details on Tractor Safety School.

04-23-21 - Devan Leo of McKenzie County Extension with an update on the drought there after recent snowfall.

04-23-21 - Crop Insurance as Reliable Risk Management.

04-22-21 - USDA expands and renews Conservation Reserve Program. USDA incentives behind new CRP incentives. Regan: EPA won't return to Obama-era WOTUS definitions.

04-22-21 - Sally Jacobson of the Red River Zoo on Earth Day events this week at the zoo.

04-22-21 - An update on the 2021 wheat acres in North Dakota with Jim Peterson of the ND Wheat Commission.

04-22-21 - One Earth Day focus for USDA is reducing food loss and waste.

04-21-21 - A new renewable diesel plant in Nebraska. Nutrien announces new CEO. Severe cold this week threatens crops.

04-21-21 - Weekly Crop Progress Report from USDA.